SEO
Programmatic SEO - Ultimate Guide
---
Content marketing is getting more competitive every day as more and more content is produced for every long tail keyword. Programmatic SEO is one of the few tactics which can help companies compete in the sea of content. And adding video to your campaigns can boost your traffic even further.
Don't let the name scare you, you don't need to be a programmer to do programmatic SEO. In this guide we'll show you how to setup a successful programmatic SEO campaign without writing a line of code.
What is Programmatic SEO?
Programmatic SEO uses automation to create content in order to target low search volume pages. For example, Product Hunt has a database of 1000s of products. For each one, it creates a page showing alternative products e.g. "Best Canva Alternatives".
Manually creates these pages would not be worth the effort as the search volume is so low. And so you need to find a way to automatically generate these pages.
Why do programmatic SEO?
The major advantage of this automated SEO is that there is very little competition for the search terms as the volume is so low. Which makes it very easy to rank for these long tail keywords. For newer, websites this can be particularly helpful as your domains authority will probably be quite low.
This technique can also be far more scalable than regular content marketing. Once you find a pattern which works you can just scale up to more and more pages.
Example programmatic SEO campaigns
Canva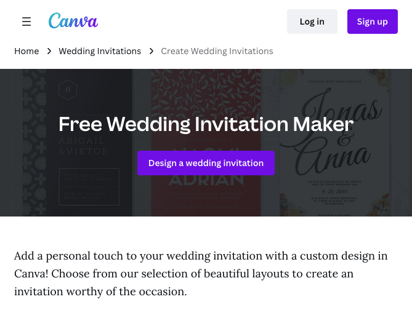 Canva made 1000s of pages for different types of templates people may want e.g. "Wedding Invitation templates". They then created landing pages for each targeting what users where searching for e.g. "Free Wedding Invitation Maker"
Zapier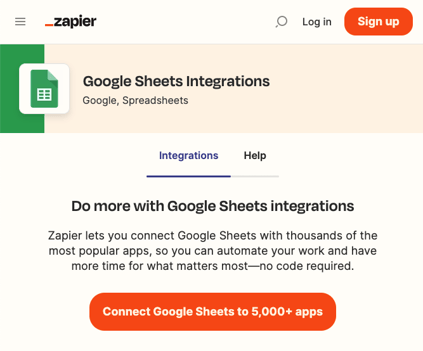 Zapier made 10,000s of pages for their population integrations e.g. "Google sheets integrations" or "How to connect Google Calendar + Notion".

Thomas Cook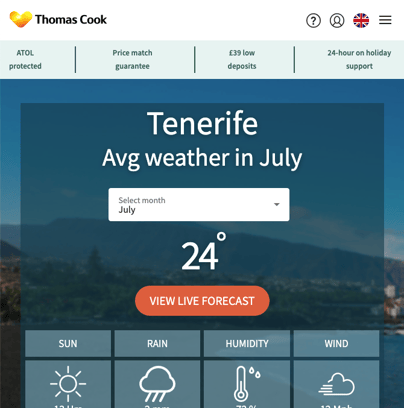 The airline Thomas Cook created pages showing the weather in destinations they travel to for each month of the year e.g. "Tenerife weather July". These keywords had very little competition but were probably made by people choosing where to holiday next, the perfect audience for Thomas Cook.
Product Hunt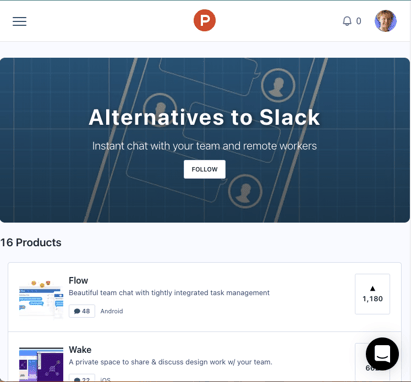 Product Hunt have 1000s of pages for showing alternatives to popular products e.g. "Alternatives to Slack".
How to create a programmatic SEO campaign?
If you are anything like me, you are probably really excited about the idea of programmatic SEO, but don't have a clue how to get started. Don't worry! We've broken it down into the key steps below.
1. Keyword research
The most important step is finding what collection of topics your audience is already searching for.
For vidon.ai one of our target markets is people doing content marketing. We used Ahref's keyword generator to explore what kind of queries people were searching for. After a few minutes of searching we stumbled into a gold mine, "content marketing for <industry>".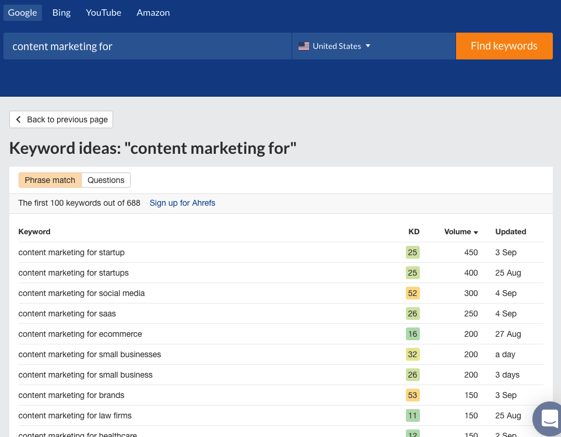 Some of these pages were competitive, but there were many with hardly any competition. Search volume was low, but if we could target 100s of these pages the low volumes add up.
We found a good formula for finding these patterns is following these steps:
List 5 audience groups
List 5 variables
Combine these and list as many formats as you can
For Vidon this looked like,
Audience Groups
Social Media Managers
Content Writers
SEO Specialists
Video marketers
Marketing Agency owners
Variables
<company> e.g. "HubSpot"
<tool> / <product> e.g. "Photoshop"
<location> e.g. "London"
<industry> / <group> e.g. "Legal" / "Lawyers"
<use case> e.g. "TikTok"
Formats
<tool> vs <tool> e.g. "Photoshop vs Canva"
Alternatives to <tool> e.g. "Alternatives to Canva"
Growth Hacks for <industry> e.g. "Growth Hacks for real estate"
Content marketing for <industry> e.g. "Content marketing for lawyers"
<company> reviews e.g. "HubSpot reviews"
...
2. Collecting a dataset
Once you've found a format which has a decent number of variations and isn't too competitive, it's time to build a dataset of content.
The dataset will be used to generate each of the pages. You may already have an existing dataset like product hunt who have a catalogue of startup tools. You may need to create it manually like Canva and their image templates. Or you may be able to create it programmatically with tools like GPT3 (although be careful or Google's helpful content update).
3. Page generation
If you already have a blog and want to include the pages in it creating pages can be complicated. You'll need to find an API or integration which can inject the pages into your site.
If you are happy to start a new blog, it's much easier to find a solution which works from the outset. For Vidon's Learning Center, we a statically hosted blog. We used a spreadsheet and Zapier integration to make a markdown file for each blog post.
Just writing content is half the battle, your content also needs to be SEO optimised. Try and inject helpful external links into your content as well as a good internal linking structure. Internal linking is extremely important to help Google index your pages.
4. Ranking
An often under represented aspect of programmatic SEO is actually getting your articles indexed and ranked. For new sites, Google may take weeks or months to index your links. It will often start slowly, to ensure your contents quality is good before indexing too much.
The best things to help Google index your website faster are to:
Write great content for each page
Have a strong internal linking structure
Boosting results with programmatic video
Scalable content marketing is far less competitive than other approaches, but there is still competition. And so you need to be doing everything you can to help your articles rank higher.
Programmatic video can be extremely beneficial to add to your campaigns. Video has a range of benefits to help your SEO. For Vidon's Learning Center, we used our video API to automatically create videos for each page. This made our content standout on the search engine results page, increased dwell time, and ultimately lead to a much higher ranking overall.
If you are interested in launching a Programmatic SEO campaign but need some help, please contact us and we will be more then happy to help.